How to Reduce your Heating and Cooling Costs with a Smart Thermostat?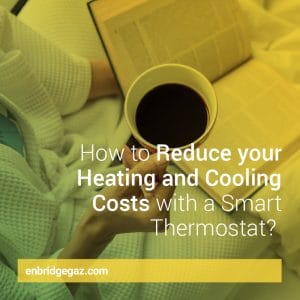 You have probably already seen models of smart houses in science fiction movies and thought these advances were extraordinary. Today, our homes are still not capable of preparing our breakfast for us, but they are certainly on the right path to do so. The technology we're looking at right now is the smart thermostat.
Are you part of the 89% of households that forget to program their programmable thermostat1? If so, we invite you to read on.
You and your thermostat are one hell of a team!
Smart thermostats are connected to Wi-Fi, that's what makes you and it a hell of a team!
You're in the office and all of a sudden your thermostat records a sudden drop or spike in temperature. Well, it will send you an alert!
You leave on a trip with all your luggage in hand, you haven't forgotten anything… oops, except to set the temperature of the house. How wonderful! Set the vacation mode remotely to save energy and enjoy your trip.
Your boss gives you the afternoon off? Preheat or cool your home using the mobile application if you arrive earlier than expected.
Energy and cost savings
Did you know that a temperature drop of only 3˚C for a period of 8 hours can reduce your bill by 4 to 5%2?
The smart thermostat has your budget at heart! It is the perfect tool to help you get the optimal control you are looking for while saving you money. How to do so? Very simple! Your thermostat records the sequences of your arrivals and departures in your home. After installation, in less than a week, it will have assimilated your routine and will then propose a customized program.
A smart choice!
The best word to describe the main advantage of a smart thermostat is: COMFORT! In fact, this installation will bring you instant comfort both mentally and physically.
You won't have to worry about the temperature anymore:
It is remotely controllable;
It adapts to your lifestyle and the seasons;
The heating and air conditioning systems are switched on automatically;
And because of its cost saving, your wallet will absolutely love this thermostat.
As you can see, the smart thermostat offers many advantages, but most importantly, it allows you to maximize energy savings! It's a simple way to help reduce your energy footprint. In addition, a $100 cash incentive is applicable on your Gazifère bill when you purchase and install a smart thermostat to encourage you to go green. To take advantage of this offer, visit the following link and fill out the pre-admission form.
---
[1] pagesjaunes.ca
[2] protegez-vous.ca